UPCOMING EVENTS
Yoga Nidra ~ with Janice Soderholm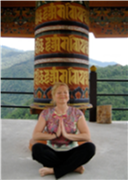 About yoga Nidra:
In this class you will be lead into a profound state of Deep Relaxation, guiding each participant in a body scanning technique followed by deep relaxation. In this profoundly restful state you will be lead on a dreamlike journey. This is a beautiful and restorative healing practice.
Your Instructor:  Janice Soderholm of YOGA TRAVELS is a certified 500 hour yoga teacher. Janice shares her love for yoga with others through various classes and workshops locally and through her delightful yoga pilgrimages to Bhutan. Janice believes that the benefits yoga nidra is something that should be experienced by everyone. It holds the incredible power to improve physical wellness, deepen relaxation and cultivate emotional peace and mental clarity.  Janice's breadth of yoga knowledge continues to deepen through the study of anatomy, chanting, breath and meditation.
Dates: Saturday September 12, 2015 1:30pm – 2:30pm, to enroll click HERE 
Room:  Lotus Room
Registration Fee: $15 +HST
Prenatal Yoga 8 Week Series ~ with Ashleigh White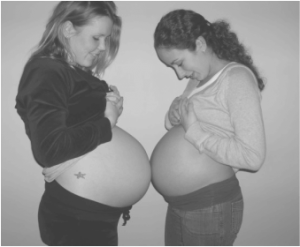 Within each woman there is an intuitive wisdom that knows the natural beauty and power of the birthing process. Prenatal yoga invites a reconnection to this wisdom. Through a class specifically designed for the journey of pregnancy, you will explore yoga postures linked with breath, mantra, meditation and visualization. These practices will nurture a loving bond within mom and baby. Prenatal yoga offers an interweaving of childbirth education as well as the therapeutic applications that address pregnancy related aches and pains. This program can help to alleviate some discomforts of pregnancy such as nausea, constipation, varicose veins, back pain and sciatica. It also provides a supportive and friendly community in which you can freely share or discuss the changes of the body and baby and the evolution that come through this joyful journey.
Some of the benefits of Prenatal Yoga are: increased breath awareness, promotes consciousness; improves circulation; improves or increases energy levels; increases strength, flexibility and balance; provides an overall sense of calm and relaxation; Inner exploration and the preparation of body and mind for the childbirth process.
Your instructor:  Ashleigh White is a certified yoga teacher, a Birthing From Within Doula, a Yoga Therapist and a member of the International Association of Yoga Therapists. Ashleigh's birth support work began with Mothercraft Ottawa.
Dates: 6 weeks, Sundays September 13 to October 18, 2015 6:15pm to 7:15pm, to enroll click HERE  
Room:  Lotus Room
Registration Fee: $75 +HST
Family Yoga ~ with Ashleigh and Athena
Parent/Child Yoga is FUN!
Family yoga is an enriching activity that is designed for parent (grandparent, caregiver) and child to explore yoga and participate in "BEingness" together. Sharing the gift of uninterrupted quality time is priceless. It is a wonderful way to nurture family bonding and support healthy lifestyle choices. Through poses, breath, guided play and spontaneous play adults can awaken their inner child, cultivate joy and share in connective interaction. Children are wonderful teachers of living in the moment and living in joy. Come in together and enJOY!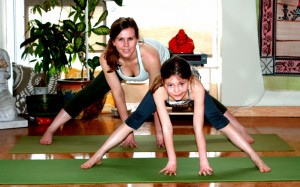 Benefits:
Nurtures family bonding
Promotes collaboration and non-competition
Refines Balance and Coordination
Highlights healthy breathing, healthy living
Increases strength, flexibility and balance
Cultivates calm and ease
Improves communication and enhances imagination
Boosts Self -Esteem and Confidence
Your instructors: Ashleigh White  and her daughter Athena. Ashleigh is a mother of two, certified yoga teacher, yoga therapist, holistic doula and the founder of Yoga Birth promoting and supporting women and families in pregnancy, birth and parenthood. Athena is Ashleigh's 8-year-old daughter. Athena likes swimming, riding her bike and yoga. Athena can't wait to teach this class!
Dates: 8 weeks, Sundays September 13 to November 1, 2015 4:15pm to 5:15pm, to enroll click HERE  
Room:  Lotus Room
Registration Fee: $128 +HST
This workshop qualifies for the Children's Fitness Tax Credit. Receipts can be provided upon request.
Facebook Contest
Are you loving your yoga classes at Kalyana Yoga Shala and can't wait to let everyone else know? We would love if you would click our "LIKE" button above to like us on Facebook or share what you love most about us in a Google review and then send us an email to let us know. In return, we will enter you in a monthly draw for free yoga. It's that simple!
Stay Connected with Kalyana Yoga Shala
Enter Your Email Address To Sign Up For Our Newsletter